Items
CLICCA SULLA FOTO PER ACQUISTARE
------------------------------------------
sheet size - 19.5 in x 27.3. - cm 50 x 70 -- short grain.
Fabriano paper or Fedrigoni pH neutral (acid free) g / 100-115 sqm
marbled paper made by a process unique in the world.
All patterns are registred and any reproduction even partial is prohibited.
Small differences of shades can occur from one serie to another, mostly due to the handmade reproduction process.
世界でも独自の処理で作られたマーブル紙
すべての型が登録されていて、いかなる再生もたとえ部分的でも禁じられている。
シリーズによっては小さな陰影の変化が起こり得るが、多くは手製の再生過程による。
ITALIAN MARBLED PAPERS,

http://www.papier-royal.com
info@papier-royal.com
https://www.etsy.com/shop/papieRRroyal?ref=pr_shop_more
Tel 0039 0971 21657
Cell 0039 3389798188
________________________________________________________________
http://www.papier-royal.com/
CARTA MARMORIZZATA A MANO
MARBLED PAPER
Il foglio misura cm 50 x 70 - 19.5 X 27.3 in. -- short grain.
Carta Fabriano o Fedrigoni ph neutro ( acid free ) g/mq 100-115
Мраморная бумага для переплетного дела
I colori sono preparati con pigmenti naturali indelebili
OGNI FOGLIO E' UNICO
Tutti i fogli di carta marmorizzata sono decorati singolarmente, ad uno ad uno, per cui ci sono lievi differenze di colori e sfumature anche in fogli di analogo disegno e gamma di colori. Questo č in realtą un segno della loro autenticitą. I colori delle foto possono essere leggermente diversi dagli originali, dipende sia dalla fotocamera che dal monitor utilizzato. Niente puņ avvicinarsi alla bellezza delle carte viste dal vivo.
SPEDIZIONE
Le carte vengono spedite arrotolate in idoneo tubo di cartone.
USI SUGGERITI:
Legatoria, arte del libro, inviti, cornici, lampade, rivestimento scatole, portagioie, segna libri, decoupage, origami, agende, rubriche, album fotografici. etc.
Marbling supplies. Bookbinding supplies. Forniture per legatorie.Carta per legatorie. Buchbindereibedarf. fournitures de reliure. suministros de encuadernación.
Meet the owner of papieRRroyal.
Learn more about the shop and process.
BOOK BINDING PAPER
Meet the owner of
Learn more about the shop and process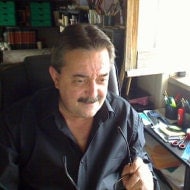 ONE OF KIND
Hand marmorpapier

953 Sales
All sheets of marbled paper are decorated individually, one by one, so there are slight differences in color and nuances in sheets of similar design and color palette. This is actually a sign of their authenticity. The colors of the picture may be slightly different from the original, depends on both the camera and the monitor being used. Nothing can approach the beauty of the cards live views.
Papier marbres
SUGGESTED USES:
Book Arts, Invitations, Framing, Box Making, Collage/Assemblage, Lampshades, Bookbinding - Decorative, Bookbinding - End Sheets, Gift Wrapping, Rubber Stamping, Card Making, Decoupage, Origami.
SHIPPING
Expedited priority cardboard tube from Italy.
Papers will be shipped rolled in a cardboard safe tube.
---
ASK FOR quantity PRICE
info@papier-royal.com______________________________


italian hand marbled paper, carta marmorizzata a mano, carta per legatoria, carta restauro libri, carta per cartonaggio, carta per decoupage,carta a mano, handmarmorpapier, handgeschöpftem Papier, Buchbinden, fine bookbinding paper, repair restoration book paper, handmade paper, ebru, papier marbrč, papier ą la main, papel marmolado, papel hecho a mano, papel feito ą mćo, papel marmorizado, marbled painting, dipinti marmorizzati. マーブル紙, 手作り紙, marmerpapier, scrapbooking paper, decoupage paper, decorative paper, craft paper, card making, бумага ручной работы
handmarmorpapier painting
ーブル紙
MARBLED PAPER, IN POTENZA - ITALY
CARTA MARMORIZZATA A MANO - HANDMARMORPAPIER - PAPIER MARBRE' - PAPEL MARMOLADO

Tel. 0039 3389798188
Sale hand marbled paper for book binding in our paper source.

These hand made paper are used for scrapbooking, binding,

Craft paper, marbling endpapapers, card making, scrapbook craft

Paper, . We explain how to make decorative papers marbling , see our videos.

Paper source of hand marbled paper for fine binding, restoration book paper, repair book paper.

We sell in our paper store bookbinding supplies, marbled papers for bindery, book making, restoration books, art paper, decoupage paper, book bindery.

Papierzufuhr von Hand fein marmoriertes Papier für verbindlich, Restaurierung Buch Papier-, Reparatur-Buch Papier.
Wir verkaufen in unserem Shop Papier Buchbindereibedarf, marmorierte Papiere für Buchbinderei, Buch Making-, Wiederherstellungs-Bücher, Kunstdruckpapier, Decoupage Papier, Buchbinderei.

La source boutique de papier marbré a la main pour reliure fine, le papier d'édition de restauration, le papier d'édition de réparation.
Nous vendons dans notre magasin papier fournitures pour la reliure, papiers marbrés pour reliure, la fabrication de livre, des livres de restauration, papier ą dessin, papier découpage, reliure livre.

Tienda del papel, de papel marmolado a mano, papel de restauración de libros, papel para reparación de libros
Nosotros vendemos en nuestra tienda de suministros de papel de encuadernación, trabajos de mįrmol para la encuadernación, fabricación de libros, libros de restauración de arte, papel, papel decoupage, encuadernación.

Papier bron van de hand gemarmerd papier voor fijn binding, restauratie boek papier, reparatie boek papier.
Wij verkopen in onze winkel papier boekbinden supplies, gemarmerd papier voor binderij, boek maken, restauratie boeken, kunst papier, decoupage papier, boekbinderij.

Источник бумаги руки бумагу под мрамор для точной привязки, реставрация книг, бумага ремонт книги.
Мы продаем в нашей работе магазина переплетных материалов, мраморной бумаги для переплетных, книги решений, реставрация книг, произведений искусства бумага, декупаж бумаги, книги переплетная мастерская.

マーブル紙

SIZE
sheet size - 19.5 in x 27.3. - cm 50 x 70 -- short grain.
Fabriano paper or Fedrigoni pH neutral (acid free) g / 100-115 sqm
ITALIAN MARBLED PAPERS,

http://www.papier-royal.com
info@papier-royal.com
https://www.etsy.com/shop/papieRRroyal?ref=pr_shop_more
Tel 0039 0971 21657
Cell 0039 3389798188
===================================================================